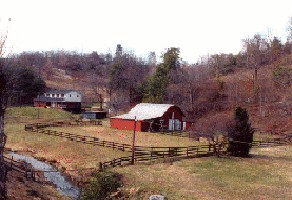 All About HHF
Latest News
Upcoming Activities
Our Accomplishments
Team CEO
Our Horses
Horses and Tack For Sale
Links
Contact HHF


All About HHF
Welcome to Hidden Hollow Farm! We are located on 40 breath-taking acres in Boyd County, Kentucky... 4 horses grace our pastures, with more to come in 2000! Above is a photo of Hidden Hollow Farm!

It's easy to get sidetracked by our name... You might think that Hidden Hollow farm is 100 miles from civilization. We are actually 10 minutes from an Interstate exit, 15 minutes from Ashland, Kentucky, 45 minutes to Huntington, West Virginia, and one and a half hours from Lexington, Kentucky. You will find that our future foals are top of the line, and our location very easy to get to!


Latest News
Hooray for HHF! At the 1999 MSCTDA Year End Awards Banquet, we were awarded:
Young Rider of the Year

Junior Prelim Horse Trial Champion

Junior Prelim Combined Test Champion

3rd Junior Training Horse Trial
Chief, we're really proud of you!

Options Open (aka "Dixon" shown below), our 5 year old Appendix colt, placed 2nd at the annual Champagne Run Mini Trial in Lexington KY! After only half a point separated him and the leader in dressage, Dixon rallied to a clear XC round and a beautiful, clear stadium round... The leader also ran clean, leaving Dixon in a game second at his first Novice level event! He debuted at Training level dressage at Snowbird Dressage Show in Lexington, KY, February 13. He placed a close second after fighting with a pigeon in Training Level Test One, then bounced back to win his Training Level Test Two class!! Dixon finished 6th at Hearthstone HT in July, after climbing from an unusually mediocre dressage performance left him in 12th. Look for him next at Jumpstart HT!

Chief Executive Officer, the head of Team CEO, has returned for CEO Season 5! After standing 2nd at the Spring Run Horse Trials in Louisville, KY, Chief & Hailey were pulled from competition due to unbearable weather. Nonetheless, Chief proved that he still had what it takes... His stadium was picture perfect, and the gleaming chestnut was undoubtedly loving every minute of it! CEO is just back from the Champagne Run HT July 20-23, where he placed 3rd in dressage in Young Riders Open Prelim B. A clean, fast XC round left him in 3rd. On sunday, he turned in one of only a couple of clean stadium rounds from 300 horses, and moved up to win the class on his dressage score! Look for CEO next at Champagne Run at the Park in July at prelim, then at the Eastern Debroke Championships, where he will complete his eventing career.

Hail to the Chief, the newest addition to Team CEO, is also just back from Champagne Run HT. She turned in a good dressage test to stand 5th in a class of 20 Young Rider Open Prelim A horses. After an awesome Cross Country just under the time and clear from faults, Hailey moved up to 2nd. She pulled two disappointing rails due to rider error in Stadium, taking her from 1st to 5th, where she finished her first prelim with Team CEO!! Hailey also placed 8th at Mayfest Horse Trials in May at the Kentucky Horse Park. She recovered from a poor dressage performance to run a clear stadium & cross country round, leaving her 8th in the field of 28. Previously, she brought home 4th at Paxton Farm HT after two beautiful jumping rounds. She also ran at Spring Run HT, but was pulled along with Chief due to the weather. Look for her at Kentucky Classic going prelim, then it's on to the CCN* at Kentucky this fall!


Upcoming Activities
Next up for Team CEO is Hearthstone HT at Novice, then Champagne Run HT at Prelim. Hope to see you there!

We breed Appaloosa-Thoroughbred crosses with exceptional color, athletic abitlity, and fabulous minds. Look for our first foal coming soon! We are also seeking exceptionally talented eventers and event prospects at all times... If you have or know of either a mare or an eventer for sale, please let us know!


Our Accomplishments
2000 Season:
1st Champagne Run HT JYOP-B 1st Champagne Run Training Level 2 Dressage
2nd Champagne Run Training Level 1 Dressage
2nd Champagne Run Mini Trial Novice
4th Paxton Farm JOT
5th Champagne Run HT JYOP-A 6th Hearthstone HT ON
8th Mayfest HT JOT
1999 Season:

3rd Mayfest Training
5th Spring Run Preliminary
1st Champagne Run Preliminary
2nd Kentucky Classic Preliminary


Last updated March 22, 2000.