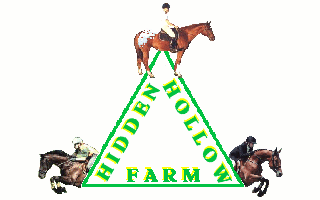 The Farm

Welcome to Hidden Hollow Farm! Established in 1999, Hidden Hollow Farm provides an increasing influence on Eventing in Eastern Kentucky as well as all of USCTA Area VIII. HHF is dedicating to training and competing Appaloosa and Thoroughbred event horses as well as promoting the great sport of eventing.
Through the years, our horses and riders have made a name for themselves in Hunters, Eventing, Dressage, Judging, Saddleseat, and Western. Six State 4-H Hunter Championships, two MSCTDA Horses of the Year, a Bluegrass State Games Gold Medal, two qualifications for the Debroke Championships, two Grade III event horses, two MSCTDA Riders of the Year, an USCTA Bronze Medal Club Induction, three State 4-H Horse Judging Championships, and countless blue ribbons later, Hidden Hollow Farm has made its mark on equestrian sports in the United States. Have you?
Whether your interest in Hidden Hollow involves our breeding program, riding lessons, webpage design, training regime, or the sport of Eventing itself, you are sure to find some of the nation's best. Our breeding program has notoriously produced brightly-colored horses with exceptional traininability and talent. Few breeders can manage to accomplish color without sacrificing quality--we have proven that we stand with that elite group. Our lesson program is well-known for building confidence and outstanding basics that are vital to a career in the horse world... From middle-aged doctors to seven year old horse crazy girls, we have something for everyone! Our chief trainer exhibits over 40 years of experience in all facets of riding, and proves to be an invaluable resource in starting the young horses fresh from our breeding program. Equine Editors is renound in the Internet Community for dependability and quality construction and maintenance of equine web pages at shockingly low cost. You want it, we have it. How can we serve you?
So, are you ready to explore now? The 45 acres at Hidden Hollow are sure to serve as an ample playground... Graze in the pastures with The Team, splash in the creek with the Horses for Sale, read through the official Hidden Hollow Newsletter in The News, or visit our horsey friends through The Links. If you have any questions or are interested in any of our services, please contact us!